dpx-504BT
DUAL DIN SIZE CD RECEIVER
Great Features for a Great Value
420 Segment 3 Line Text Display
Amazon Alexa Ready
Spotify Ready
Bluetooth Direct Access Button
Variable Color Illumination
Front USB & AUX IN
3 Preouts 2.5V
Music Mix
Up to 5 Bluetooth® devices can be paired to the receiver at the same time. You can enjoy audio streaming just by switching the devices with your friends or family.
Dual Phone Connection
While you are connected through Bluetooth, with a touch of a button you can switch between two phones.
Remote App
A smartphone application can control most basic functions of the receiver over the Bluetooth connection of the paired phone (iPhone or Android).
Wireless Music Browsing (AVRCP 1.5 / 1.6)
Search and select songs from your music collection through a Bluetooth connection.
Graphic EQ / Digital Time Alignment
13-Band equalizer and DTA gives optimal tuning enhancements for listeners.
Drive EQ
Boosts specific frequencies in the audio signal to overcome the negative impact of road noise.
FLAC Supported
Compatible with various audio file formats from high-res FLAC and WAV, to MP3, WMA and AAC.
Android Rapid Charge
Rapidly charge your compatible Android smartphone with the USB port, up to a maximum of 1.5A.
Variable Color Illumination
Bright variable color LEDs can be adjusted to match any
color dash lighting.
A simple layout for your media
Kenwood's DPX504BT CD receiver combines the user-friendliness of a big-buttoned car stereo with the innovation of voice control using Amazon Alexa. The big 3-line display shows you all your music information, while its versatile Bluetooth options also get your smartphone involved in the action wirelessly. Radio lovers, you'll dig the built-in controls for several Internet options, or you can add satellite radio for the longest hauls. And if you're bringing your own tunes, this Kenwood offers a front aux input, a USB port for your iPhone® and high-res music, and CD playback.
Alexa voice control
After you load the Alexa app onto your phone and pair your phone to this Kenwood receiver, simply press the dedicated "Alexa" button on the faceplate, and you can access music, audiobooks, news, weather, traffic, and smart home controls using your voice.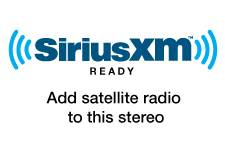 Music, music, music
You can play and charge your iPhone® or check out a USB drive filled with high-res FLAC and WAV files through this receiver's front USB port. Android™ users, you can control and play music using Bluetooth®. Kenwood rounds out the connectivity with a front aux input for a portable music player. The DPX504BT gives you all kinds of radio options, with controls for Spotify® and Pandora®, along with an option for SiriusXM. This Kenwood's sensitive radio tuner will pick up local AM and FM analog stations, too.
Bluetooth®, of course
Bluetooth is the norm for wireless phone functionality these days. The DPX504BT lets you to pair two Bluetooth-equipped phones and quickly switch between them for hands-free calling. You can also stream music, audiobooks, and podcasts from the phone that's active. Kenwood also added a little fun to audio streaming with their Music Mix feature — pair five phones so everybody can pick their tunes for the ultimate road trip playlist. Bluetooth also lets you control this stereo directly from your iPhone® or Android™ phone by downloading Kenwood's free Remote app.
Tweak the look and sound
You can use this Kenwood's dynamic 13-band graphic equalizer and digital time alignment to make sure it always feels like the band's right in front of you. The DPX504BT also provides three pairs of RCA preamp outputs, enabling you to additional amps in your system for more power to your speakers. With its variable color adjustment, you get to pick the color for the receiver's high contrast display for just the right look in your dash.
Bluetooth note: Use of this receiver's Bluetooth features will depend upon your phone's Bluetooth capabilities.
iPod/smartphone note: If you're going to use your iPod or smartphone with this receiver, be sure to check "Details" for compatibility information.