DNX775RVS
GPS NAVIGATION AT ITS FINEST
Great Features for a Great Value
6.95″ WVGA Clear Resistive Touch Panel
Garmins's Advanced GPS RV/Truck Navigation
High-Resolution Audio Ready
Apple CarPlay® & Android Auto™ Ready
3 Preouts 4V
Clear Resistive Touch Panel
A clear screen designed to reduce glare that includes a resistive touch sensor for accurate control during operation
Dual Phone Connection
While you are connected through Bluetooth, with a touch of a button you can switch between two phones.
Wireless Music Browsing (AVRCP 1.5 / 1.6)
Search and select songs from your music collection through a Bluetooth connection.
Graphic EQ / Digital Time Alignment
13-Band equalizer and DTA gives optimal tuning enhancements for listeners.
Drive EQ
Boosts specific frequencies in the audio signal to overcome the negative impact of road noise.
FLAC/DSD Supported
Compatible with various audio file formats from high-res FLAC and WAV, to MP3, WMA and AAC. Also plays DSD (Direct Stream Digital) files with a broader reproduction frequency band for life-like high-res sound reproduction.
Dash Cam Ready
Dash Camera (DRV-N520) can be controlled and viewed from the touch screen.
Dual Camera Input
Two camera inputs for front and rear cameras.
Parking Guide Lines
Parking guide lines (requires installation of compatible backup camera) that enhance the effectiveness of a backup camera.
Lane Assist
Lane Assist guides you to the correct lane for an approaching turn or exit, making unfamiliar intersections and exits easy to navigate.
DUAL USB
Multiple USB ports provide additional inputs for music sources or smartphone battery charging.
Variable Color Illumination
Bright variable color LEDs can be adjusted to match any color dash lighting.
Remote App
A smartphone application can control most basic functions of the receiver over the Bluetooth connection of the paired phone (iPhone or Android).
Photo Real Junction View
Garmin Photo Real Junction View shows what complex interchanges look like before you arrive.
Road-ready routing for your RV or rig
If you own an RV or a tractor trailer, you already know about the extra work and care that go into keeping it running and rolling safely. Wouldn't it be nice if there was something that made owning your large vehicle a little easier? Kenwood's DNX775RVS navigation receiver treats RV owners and truckers with a sweet 6.95″ touchscreen display, amazing phone integration with Apple CarPlay® and Android Auto™, and vehicle-specific guidance from the experts at Garmin. It also gives you plenty of options for entertainment and killer sound, to boot.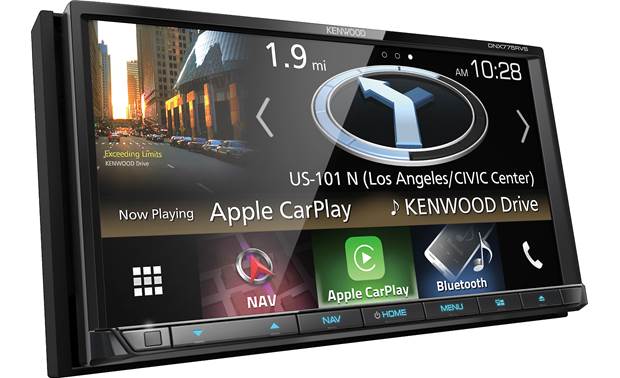 Apple CarPlay and Android Auto
Kenwood designed the DNX775RVS to work seamlessly with both Apple CarPlay and Android Auto. No matter what phone you (or your passengers) prefer, you can access the apps you need without getting distracted from the matter at hand — driving your vehicle. The DNX775RVS gives you fingertip or voice control of your apps, and its beautiful 6.95″ resistive touchscreen display offers plenty of real estate to suss out your sources and other important info — you can even customize the source button locations for easier access.
WebLink moves more sweet apps into your dash
This Kenwood includes WebLink, which provides you simple in-dash control over select apps like YouTube and Yelp. What's especially nice is that WebLink works with both Android and iPhone. So load up the free WebLink for Kenwood app, plug in your phone, and you'll have quick access to some handy infotainment for your journey.
Pair with two phones at once
If you're driving with a passenger, the DNX775RVS can pair with up to two phones at once. You'll be able to designate one phone as the priority but be able to switch between the two with ease, as well as have access to both phonebooks.
Turn your phone or Android tablet into a remote
Kenwood's Remote S app turns most iPhones and Android phones into a remote control for this stereo. It uses a Bluetooth® wireless connection to let you command many basic receiver functions right through the phone, including changing sources and pulling up tunes from your favorite streaming services. If you have an Android tablet, you can use the receiver's built-in Wi-Fi® to make the tablet a wireless remote control which mirrors the receiver's display exactly. Download the Kenwood Screen Control app to your tablet to make it happen.
See it all on a large screen
The 6.95″ high-resolution touch display shows you everything you need to know from the driver's seat, with guidance that's optimized for your RV or truck. It offers road maps for the entire U.S. and Canada, and Mexico, plus Puerto Rico and the U.S Virgin Islands, plus over 6 million points of interest. You'll get trademark Garmin guidance along the way, with text-to-speech voice prompts that say actual road names at turns. Garmin's lane guidance helps you stay on the right path when approaching multi-lane turns or highway splits. Realistic views of complicated intersections make it easier to get through new locales with your load intact. You'll even see speed limit indicators to help you stay on the right side of the law.
On-point directions for trucks and RVs
Truck-specific points of interest include truck stops, food, rest areas, weigh stations, and clean beds along your route and at each upcoming exit. When looking for truck stops, you'll find a list of services offered for each one, including showers, truck scales and Wi-Fi. The built-in TruckDown directory helps you locate repair services for your rig, and RV owners can count on listings of RV-friendly parks and services in most areas. The DNX775RVS also provides upcoming road info, such as sharp curves, bridge heights, and high wind areas. You'll also get a heads-up for steep grades so you can plan ahead for demanding ascents and descents.
The DNX775RVS also provides specialized routing for truck-related restrictions on most roads in the lower 48 states and Canada. You can specify height, weight, length, width, and hazardous materials criteria, and the navigator will provide the best, safest route to your destination — RV owners can do the same. If you're entering an area with a different posted speed limit for trucks, you'll get an alert for that, too.
The DNX775RVS also tracks your fuel usage, HOS (hours of service), and mileage by state for IFTA purposes. It can even warn you if you're going to violate your HOS conditions. When you're off the road, you can easily export all your logs to your laptop or PC for efficient reporting and tracking of your trips.
2 years of free INRIX traffic reports
You'll get a free 2-year subscription to INRIX traffic service, which provides quick updates on congestion along your route. You'll need to have your smartphone with the app on it connected to the receiver to take advantage of these traffic updates. INRIX updates require an in-app purchase after the 2-year subscription ends.

Built-in HD Radio™ tuner
The DNX775RVS also features an HD Radio tuner. You'll enjoy much-improved AM/FM sound quality when you're tuned into a local participating station, and there's no subscription required — just tune it in like a regular radio station.
Drive coast-to-coast with satellite radio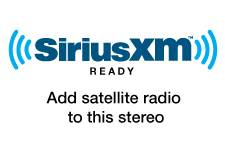 Why struggle with stations fading away as you travel? You can hook up a SiriusXM satellite radio tuner (not included) to this receiver and access the wide variety of entertainment, sports, news, and commercial-free music satellite radio provides — and your favorite stations are always there. The DNX775RVS works with TuneMix, SportsFlash, and other new SiriusXM features, which give you even more customizable options for listening the way you want.
Ride with your favorite sources

This receiver will play all your CDs and DVDs, including discs loaded with music files, while an A/V input offers connection for more audio/video sources. A pair of rear USB ports let you add audio from an iPod or flash drive. You also get an microSD card slot for playing digital music files and map updates. You even listen to high-resolution FLAC and DSD files stored on a thumb drive or SD card. And it'll all sound great thanks to the receiver's 13-band graphic equalizer with digital time alignment.
Ready for your Kenwood dash cam and more
The DNX775RVS is capable of connecting two different cameras, so you can see more when you're getting in and out of tight spots. If you've got a pair of rear-view cameras, you can reverse the image of the one up front to get a more precise picture. The receiver also features a dedicated input for Kenwood's DRV-N520 Drive Recorder so you can capture your travels in high definition.
Bluetooth note: Use of this receiver's Bluetooth features will depend upon your phone's Bluetooth capabilities. 
Navigation note: This Kenwood's internal Garmin navigation is optimized for RV and truck travel. While you can use your smartphone's navigation options via Apple CarPlay or Android Auto, those applications may not yield ideal routes or information unless they have additional settings and modes to incorporate RV/truck navigation.
iPod/smartphone note: If you're going to use your iPod or smartphone with this receiver, be sure to check "Details" for compatibility information.
You'll need a wired connection to your parking brake to access settings and other features on this receiver. Your parking brake must be connected and set in order to view video on its screen.
DD, TS-Y, BT-Y, CD-N, CP-Y, AA-Y, SP-Y, MR-N, XM-Y NAV-Y RV-Y