DDX276BT
6.2" DVD Receiver with Bluetooth
Great Features for a Great Value
6.95″ WVGA Monitor
Apple CarPlay® & Android Auto™ Ready
High-Resolution Audio Ready
Short Chassis
Dual Camera Inputs
Built-in Bluetooth
3 Preouts 4V
Clear Resistive Touch Panel
A clear screen designed to reduce glare that includes a resistive touch sensor for accurate control during operation
Music Mix
Up to 5 Bluetooth® devices can be paired to the receiver at the same time. You can enjoy audio streaming just by switching the devices with your friends or family.
Dual Phone Connection
While you are connected through Bluetooth, with a touch of a button you can switch between two phones.
Remote App
A smartphone application can control most basic functions of the receiver over the Bluetooth connection of the paired phone (iPhone or Android).
Android Music Playback (AOA2)
Supporting AOA2, install the KENWOOD Music Play app and connect your smartphone to the receiver via USB, and control your music directly from the receiver.
Android Rapid Charge
Rapidly charge your compatible Android smartphone with the USB port, up to a maximum of 1.5A.
Wireless Music Browsing (AVRCP 1.5 / 1.6)
Search and select songs from your music collection through a Bluetooth connection.
Graphic EQ / Digital Time Alignment
13-Band equalizer and DTA gives optimal tuning enhancements for listeners.
Drive EQ
Boosts specific frequencies in the audio signal to overcome the negative impact of road noise.
Parking Guide Lines
Parking guide lines (requires installation of compatible backup camera) that enhance the effectiveness of a backup camera.
FLAC Supported
Compatible with various audio file formats from high-res FLAC and WAV, to MP3, WMA and AAC.
Step into a touchscreen radio
If you've been thinking about upgrading to a touchscreen radio, Kenwood's DDX276BT DVD receiver brings a lot of upper-end features to the table, such as Bluetooth®, Internet radio control, and deep sound-sculpting controls that are shown off on a crystal-clear 6.2″ touchscreen display. You also get control over your iPhone® or Android™ using a wired USB or wireless Bluetooth connection. It's easy to see why this receiver is a great choice for all your media, including CD, DVDs, and even high-res music files. 
Wireless convenience
Bluetooth gives you a wireless connection for hands-free calling and streaming songs stored on your phone. And if you're not the only driver, this Kenwood enables you to pair two phones simultaneously. And when you're streaming audio, the Music Mix feature lets you pair five phones so everybody can pick their favorite tunes for a mega driving playlist. Don't forget, Bluetooth isn't just about smartphones. Many portable high-res audio players include Bluetooth, too, so you can stream your music collection on your journey. You can even control playback and set up this receiver's robust tone controls using Kenwood's free Remote app on your phone.

Lots of music choices
The DDX276BT lets you enjoy your favorite Pandora® and Spotify® Internet Radio stations from your iPhone or from your Android. Connect an optional tuner and subscribe to satellite radio, and you can enjoy the immense variety of programming that SiriusXM has to offer. The rear-panel USB port can handle MP3, WMA, AAC, WAV, or FLAC music files on a thumb drive, too.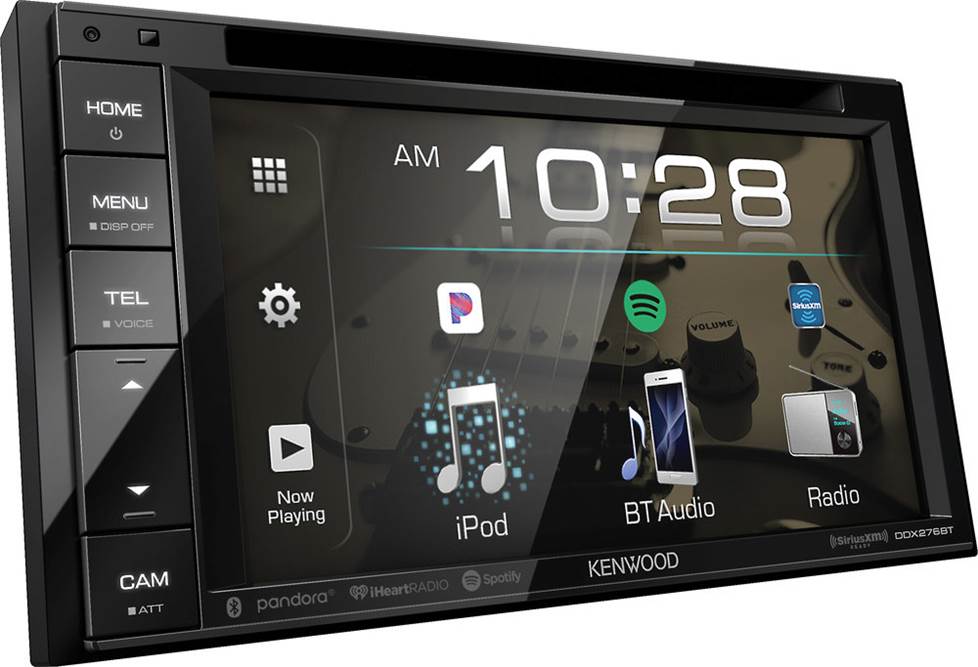 You can use the touchscreen display for quick access to all your favorite music.
Set the tone
This receiver sports a 13-band equalizer that allows you to set up separate tone curves for different audio sources. And if you're in a hurry, you can choose from the eight built-in EQ presets. Combine that with the built-in digital time alignment processor, and you can put yourself right in the front row of the show. Got a noisy car? This receiver's Drive EQ mode also boosts certain frequencies that help overcome that pesky road noise.
The "video" in audio/video
Besides all the great audio options, the DDX276BT also provides handy video options like a backup camera input that includes onscreen parking guide lines. If you've got a restless backseat crew, you can feed them some video by connecting additional monitors to this receiver's video output.
iDatalink Maestro lets you keep your factory extras
The DDX276BT offers compatibility you won't find in many other aftermarket radios, thanks to the iDatalink Maestro module (not included). In a wide selection of vehicles, this module lets you keep factory features that you'd otherwise lose when you install a new radio. You'll also be able to check out engine performance data and other vehicle info on the Kenwood's screen.
DD, TS-Y, BT-Y, CD-N, CP-Y, AA-N, SP-Y, MR-N, XM-Y